Buy and register available domains.
Search for that perfect domain name now!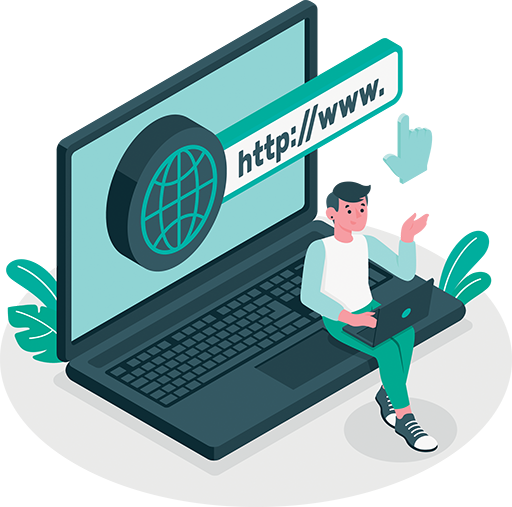 Why you deserve a domain name.
The perfect domain lets people know at a glance why you're online (and why you're awesome).
Use the domain search bar and find the right domain now to grab more attention and visitors.
Domains include free Privacy Protection forever.
Protects your personal details with anonymized information in the Public WHOIS directory and prevents spam with a private email address for domain inquiries.
Due to registry restrictions, some domains are not eligible for privacy protection. Please see the Domain Name Proxy Agreement for details.
Why buy and register available domains with InternetGrove.com.
InternetGrove.com is backed by the world's largest domain registrar, to which 21+ million customers trust with 84+ million domains.
24/7 phone support. Talk to a real person in your preferred language.
Simple domain set up. You don't need any technical skills.
Easily find available domains from over 500 domain extensions.
Up to 100 subdomains to create a custom web address.
Real-time monitoring to make sure you're always up and running.
Quick, simple tools to forward your domains to any existing website.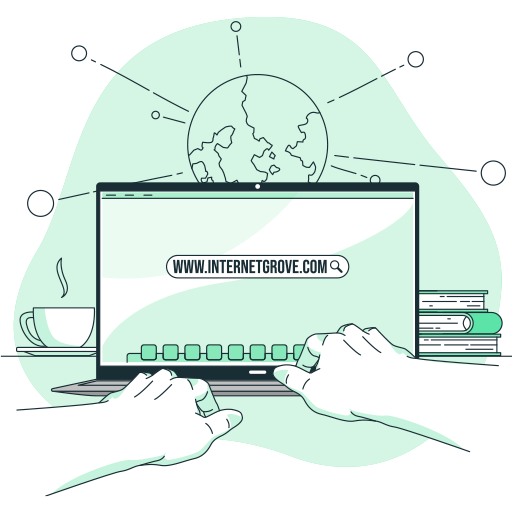 Each and every domain name comes with all you need to get online.
Domain Forwarding and Masking.
Direct any domain name you own to your website. Anyone who types that domain name into their browser is taken directly to your website.
Change of Registration.
Assign your domain name to someone else or change the contacts for your domain online anytime.
Status Alerts.
Monitor the status of your domain and get instant alerts if there's been a change.
Domain Locking.
Domain locking prevents accidental or intentional transfers of domain ownership and stops anyone from redirecting your nameservers.
Total DNS Control.
Manage your domain nameserver (DNS) records and set your email, FTP, sub-domains and website location all from one control panel.
Auto Renew Protection.
No need to watch expiration dates to make sure you renew on time! Auto renew keeps your domains, hosting, website builders, and other products in your name and under your control.
What is a domain name and why do I need one?
Domain names are created to make IP addresses easy to remember. Every computer has an IP address assigned to it — much like a street address. But instead of having to memorize each IP address number, we assign domain names to these numbers so we can easily remember them. The domain name system, or DNS, takes domain names and translates them into their IP addresses so that computers can communicate with one another. InternetGrove.com can help you find a domain name that best suits your business so you can easily promote your website.
Having your own domain name can help you appear more legitimate to people who search for you or your business online. With a domain name, you can:
What is domain name registration?
Domain name registration is the process of finding a web address (like InternetGrove.com), and then signing up to use it. You technically don't own the domain, but once you've registered it, it's yours alone for as long as you continue paying the annual registration fee.
How do I check if a domain is available?
To check if a domain name is available, just type it in
InternetGrove.com
's search bar and we'll tell you immediately if someone else already owns it.
If it's taken, you can search for your desired domain name using our WHOIS Lookup.
We also offer a Domain Backorder service, where you purchase a backorder credit to give you a chance to get the domain you want when it goes to auction.
How do I buy domain names?
Here are the steps to buy and register available domains:
Decide on a domain name extension. The extension is the part at the end of the domain name — .net, .biz, .org or .com, for example.
Think about what business name or specialty you'd like on the other side of the dot.
Type the domain you want into the box at the top of this page. We'll tell you if that particular domain is available and also show you others you may like better.
Pick a domain, add it to your cart, and check out. You are now the proud owner of your very own domain. As long as it's registered to you, no one else may use it.
How long does my domain name registration last? How do I renew my domain?
How long your domain registration lasts can vary depending on the domain you purchase. Many domain name registrars will allow customers to register domains for 10 years at a time, but typically customers will register domains for one to three years.
If you want to extend your registration, it's easy to renew your domain with InternetGrove.com. You can choose to manually renew or set up auto-renewal, so you ensure it stays registered to you.
Disclaimers
Domain Disclaimers: Special savings apply only to first year of registration. You must purchase entire section to qualify for special savings. The final price may differ because of additional sales, fees, and promotions. Products will automatically renew until cancelled. You may turn off the auto-renewal feature by visiting your account. Change of registration may require a fee for certain domains.
*Pricing excludes applicable taxes and ICANN fees.